The UBC Math Circle was started in 2006 to create a network of students interested in mathematics and to enhance the performance of the top Metro Vancouver High School students in the various math competition opportunities leading to selection on the Canadian International Mathematical Olympiad. A second (and more important) objective of the Circle is to make interested high school students aware of the wonderful world of mathematics and related sciences beyond contests!
History
The first meetings, primarily run by Andrew Adler, brought together 11 top students from the area. All of the students came faithfully each week, had a wonderful time, and built a very strong network! In addition, three of this first group of students, Farzin Barekat, Steven Karp, Danny Shi all participated on Canadian IMO teams, with Barekat winning a 2006 Silver Medal and Shi winning a 2009 Gold Medal.

Prof. George Bluman

Late in 2007, five undergrads approached Prof. George Bluman to start the Circle up again. Two of these undergrads (Farzin Barekat and Nancy Nguyen) had participated in the 2006 Circle and wanted to give something back to UBC for their wonderful experience. The 2008 Circle included about 25 top high school students, who had performed well in contests or had been recommended by their teachers. It ran during the January-April term, each Monday from 5-7pm, and adopted the format that has continued each year since then. An interesting sidenote about the five students who initiated the 2008 Circle: These students had been in Canada for less than three years and originated from four different countries (Iran, Israel, Taiwan and Viet Nam).
Format
Each week, the first hour involves a Math or Physics topic given by a UBC professor or student and the second hour (after pizza and refreshments provided by the UBC Math dept) is devoted to problem solving. During the week, the students network and work on problem solving. Most of the students return week after week—a tribute to our student volunteer organizers. In addition, a number of the Circle participants have gone on to great performances in math contests.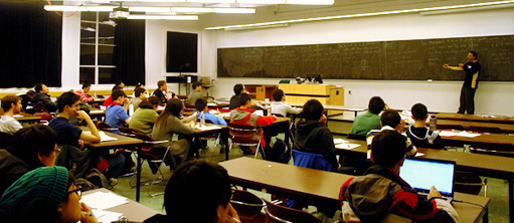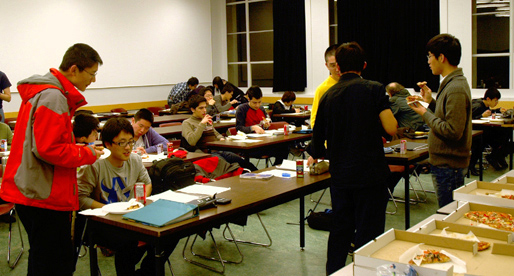 In 2009-2011 the UBC Circle has run in the same format, with the number of participating high school students growing to 40-50. Because of the increased numbers, the sessions were moved to the LSK building at UBC. The high school students continue to be identified through both contest performance and recommendations from their teachers. In the last four years the UBC Math Circle has been organized mainly by UBC undergraduates together with UBC grad students with the assistance of Andrew Adler and George Bluman.
The Circle has now become a very important way for our senior undergrads and graduate students to mentor high school students and our junior undergrads. It has become an informal math club for many of our talented undergrads. The Math department has been pleased to be able to provide some financial support for conference participation and other scholarly pursuits to the undergraduate volunteers.
How to Participate
High school students are welcome to apply to be participants in the next UBC Math Circle starting in January 2012.
Send an email to our UBC Math Circle contact.